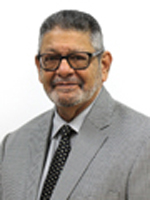 Alli Amlani C.Dir, RCIC. is Immigration Consultant since January 1988. Served as a Director, Treasurer and Chair of key Committees at the Organization of Professional Immigration Consultants (OPIC) from 1991-2004. Attracted much-needed attention of CIC towards the legitimacy of the Immigration Consulting profession and fought for Self Regulation.
1995 – 2006 Founding member of Professional Development Courses and the Advisory Committee on Immigration Practitioners Certification program. Developed Infrastructure, teaching materials, recruited and trained presenters. It remains the industry standard today.
2005 – 2008 CAPIC: Founder and the First Ontario Chapter President. Inspired members to make the required contribution by empowering Committees with "Make It Happen" Philosophy.
2008 – 2011 CSIC: Director, Chair of the Membership Review Committee, Member of Ethics and discipline, Education and Standards and By-law Committees. Became Chair of HRCC and Vice Chair of the Board. Affected change in every aspect.
2012 – Present ICCRC: Director, Chair of HRCC and OCC Committees, Member of FAC, LAC and DSC Committees. Currently serving the second term as the Chair of the Board. Helped build infrastructure, focusing on succession planning, and long term sustainability of the profession.
Related accomplishments and recognitions:
IPC from Seneca College of Applied Arts and Technology
"Not-For-Profit Governance Essentials" Rotman School of Management, University of Toronto.
Chartered Director (C.Dir.) from The Directors College (a joint venture of McMaster University and The Conference Board of Canada) in 2011.
Recipient of the Shepherds, Pillars and Leadership and Lifetime Achievement Awards from CAPIC