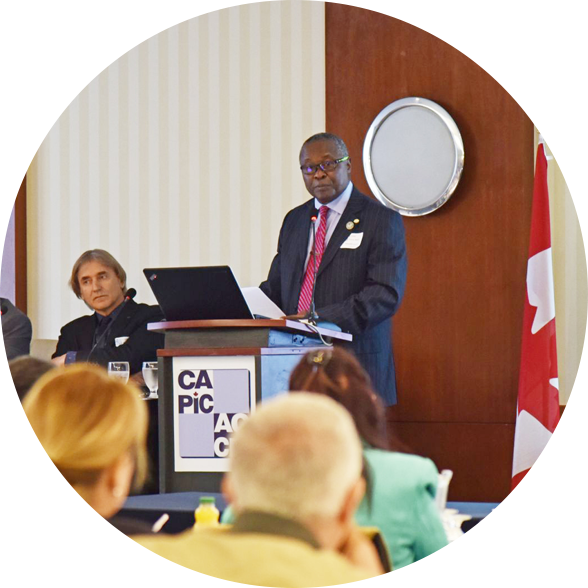 As a CAPIC member, you gain access to exclusive educational events and valuable knowledge repositories. The IMMeForum is the largest RCIC forum in the industry and the IMMeCentre, CAPIC's online resource library, is your virtual warehouse of up-to-date government reports, articles, member-driven content, and invaluable periodicals. If that weren't enough, our Seminar Bundle allows you to attend regular seminars from January through December for a one-time fee (the 2022 rate is $1 plus tax). Without the Seminar Bundle, you still access our educational programs at a discount. Members can also register for a Surety Bond at a special rate and much more.
Professional Development & Networking
Stay connected with professional industry standards, gain knowledge, share experience, and build your network.
Lobbying & Advocacy
CAPIC is your voice.
CAPIC represents your voice – with the regulator, with government stakeholder partners, and with other entities in the immigration domain. CAPIC can be a powerful voice and has been -- advocating for you since 2004 and working to achieve milestones for the profession.
CAPIC lobbies all levels of government on immigration, citizenship, and refugee issues. The results, as well as regular dialogue, are beneficial to CAPIC members. Individual meetings are often proactively arranged on an ad-hoc basis.. Consistently representing the best interests of RCICs is our core mandate. We fulfil this through rigorous lobbying and positive, ongoing communication with stakeholders.
The Latest Initiatives
Business Enhancement & Savings
Gain new clients, expand your business.

IMMeFile is a great comprehensive client management tool to help you manage client files, hassle free. Each new member receives a 90-day free trial.
Find Out More

The MyConsultant.ca platform is designed to connect CAPIC members with citizenship-seekers the world over. The MyConsultant.ca Show on YouTube features the latest immigration updates and interviews with licensed immigration and citizenship consultants. The MyConsultant.ca website has had over 400,000 visits in 2022. Level 3 and level 2 members are featured on the homepage. The website also hosts a directory of licensed immigration and citizenship consultants. Members can write articles and participate in the forum to chat with prospective applicants.
Find Out More

International Student has increasingly become an important stream in Canada's immigration system. The Education Partner Program (EPP) is an ambitious CAPIC initiative to bring its members and Canadian educational institutions together in international student recruitment. Through EPP, CAPIC serves as a bridge between RCICs and educational institutions. RCICs would be able to send eligible international students to CAPIC's partner schools and receive the requisite commission. Members earn 100% of the recruitment commission through the program.
Find Out More
Discounted surety bond for meeting provincial licensing requirements.
Numerous other affinity programs.